4 Strategies to Generate More Qualified B2B Leads from Your Marketing Activities
As a B2B marketing firm, we are always looking for ways to generate great qualified leads and appointments for our clients.
If you are looking for additional ideas on how to potentially generate a few more leads each month for your sales and marketing team, we compiled a list of some strategies that may help.
Use automation
A Marketing Automation Platform and/or CRM can help any company save time by automating daily tasks.
Most platforms available provide users with pre-designed B2B marketing workflows, saving countless hours of unnecessary work for their users – allowing them to spend more time focusing on revenue-generating activities.
Many companies are still unsure about whether these platforms are worth it or not, so here's why they should consider implementing them in their strategy:
Marketing Automation Platforms allow marketers to increase the number of leads coming through the door by creating custom lead scoring rules that automatically determine when someone is ready to be contacted.
Marketing Automation Platforms also allow marketers to automatically gather key insights that are gathered into a B2B marketing database, which allows marketers to track everything from lead score and revenue generated by each customer, to the exact time of day they're most likely to buy.
The ability for companies to have all this information available in one place allows them to personalize the content in their campaigns, making companies more likely to see a return on investment from lead generation.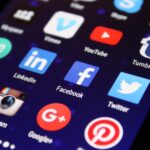 Use social media authentically
If you ask prospects what they value most about social media, most will say authenticity; because of this, companies need to approach social media channels as more than just a platform to promote their product – otherwise, they'll come off as disingenuous and will lose trust almost instantly.
To have credibility with your prospects, they must know that the content is coming from an authoritative source. A blog can serve as an incredible B2B marketing tool with the right strategy. It allows you to build links, which is one of Google's most important ranking factors, and it also establishes your brand as a thought leader in the industry.
Make sure that your content is relevant, insightful, and valuable to your audience; this will go a long way towards establishing trust with prospects. On top of writing posts that are useful to your prospects, you'll also want to be active on social media channels because this builds an online relationship with prospects who may eventually turn into customers.
Great ways to engage your prospects on social media are by asking questions, answering the questions that they post on your wall, and sharing their content with your followers.
Prioritize lead qualification
This is HUGE!! When done well, lead qualification can distinguish between those who need you vs. those who simply want you; by finding people that are ready/willing to buy, you'll avoid wasting time on leads that don't require your attention or resources.
In other words, lead qualification is a critical step in your B2B marketing and sales funnel because it allows you to cut from the bottom of the barrel—those who aren't ready or willing to buy.
By incorporating a proper lead qualification process during the marketing and sales stages, you'll be able to improve productivity by focusing on leads that matter most. Lead qualification should ultimately help your team separate the 'wheat from the chaff' and focus their efforts on opportunities that are most likely to convert to customers.
When done well, lead qualification can distinguish between those who need you vs. those who simply want you; by finding people that are ready/willing to buy, you'll avoid wasting time on leads that don't require your attention or resources.
Focus on value not features
Instead of offering ten different features, try focusing on one benefit – this strategy will create more demand in the market because you'll be fully focused on solving one specific problem. When a buyer is looking for a solution, they won't be overwhelmed by different features – this will allow them to realize that there's only one right choice.
When it comes to B2B lead generation for your product, you should always keep this strategy in mind – instead of focusing on tons of features, try offering value first because people don't care about the product itself; they care about what it can do for them and how it can improve their business.
You need to understand that people aren't getting excited about your product – they get excited about results, not features.
—
Bay MarketForce delivers best practice marketing, strategy, plans, and execution techniques with revenue growth in mind. Mixing traditional marketing tactics along with digital technology, prospect data, and demand generation strategies, Bay MarketForce provides an integrated sales and marketing solution to help grow our client's revenue and customer base.